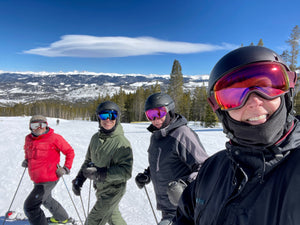 Maximize Your Fun on Vacation!
Get Back Out There Day After Day with Amari's Recovery Tips
We've perfected our recovery strategy over 40 years of skiing!
Stay Hydrated! - Having fun at altitude requires hydration. If cocktails and beers are part of après, we recommend 1 glass of water for every 2 drinks.
Reduce Inflammation - This is key to recovery and why we launched Amari. We were tired of taking Aleve or Tylenol after a day of fun. Our Recovery products are designed to reduce inflammation from exercise, improve joint comfort and decrease muscle soreness. Delicious chilled or try one of our recipes.
Hot Tub or Sauna - Hot tubs and skiing were made to go together. The hot water increases circulation and the flow of oxygen to muscles which helps with recovery, plus you look cool.  
Solid Sleep - A full night's sleep is sometimes elusive at altitude, even for the locals, but essential for a strong day on the hill.
Stretch - Yes, it's a pain to stretch when all you want to do is become one with the couch, but your body will thank you for it. Here are our favorite stretches.
Use Code Snow15 for 15% off Your Next Online Order!